What We Do For Our Clients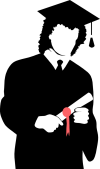 First a little math: For every $10,000 of grant and scholarship financial aid you receive each year, that's $10,000 saved.
However, you pay the colleges with dollars that have already been taxed. In other words, $10,000 of aid is equivalent to over $17,000 in earnings! Over a family's entire "college window" that will add up to a substantial savings of your hard earned money.
Because need based grants and scholarships offered to your students are tax free and never have to be payed back, $10,000 of additional financial aid (grants and scholarships) is the equivalent to at least a $17,000 raise to you each and every year your students attend college!
Therefore, make sure your financial advisor has a lot of experience working with the financial aid system, and is willing to help you with the financial aspects of all the steps listed below. If not, contact us today!
We are not here to take you away from your current advisor. If you are working with a financial advisor, our strategies will work with your current advisor's strategies. If you are not working with a financial advisor, you need one now more than ever - call us today!
We actually have financial advisors as clients.........
These are the steps we take all of our clients through to assure maximum financial aid in every case from every school.
(1) Learn how the financial aid system works.
Hint: Call Dave Landry at 508-739-2020 x1 or attend one of our seminars.
(2) Determine your FAFSA, Profile and Strategic EFCs.
We calculate this information for you.
(3) Isolate and address any exposures in your financial profile.
The most important early step you can take to maximize your college financial aid.
(4) Implement the financial aid strategies described at our Seminar.
You may complete this step with us or with your current financial advisor.
(5) Review the colleges your child is applying to for the quantity and quality of aid available.
We provide that information to our clients while their students are adding schools to their lists.
(6) Find out which forms are needed for each of the colleges your student is applying to.
We provide this information on an on-going basis to our clients.
Hint: Meeting deadlines for each of these forms is vital.
Hint: Remember, you are better off being early and incorrect than late and perfect.
Hint: You can always go back and correct errors.
(7) Estimate current-year taxes before filling out the CSS Profile and FAFSA forms.
Another word about deadlines: Many parents and students learn about the CSS Profile
and it's associated deadlines after it is too late.
(8) Complete the CSS Profile, FAFSA and all supplemental college forms.
We assist our clients in completing all financial aid forms as part of our forms process.
(9) Complete tax returns as soon as possible.
We recommend you file electronically so the IRS Retrieval Tool system works smoothly for you.
We assist our clients with the IRS Retrieval Tool.
(10) Compare and evaluate the financial aid offers from the various colleges.
A service our clients appreciate very much.
(11) Negotiate for more aid if it makes sense to do so.
We decide together if we will ask for a review and appeal for more.
We appeal about 80% of offers from schools the student still has under consideration.
(12) Post graduation, choose the best strategy to repay student loans, if any.
For example: Consolidate or not consolidate?
---
---
Central Mass College Funding Advisors
290 West Main Street, Second Floor Suite 19
Northborough, MA 01532
Voice: 508-739-2020
Fax: 508-739-2270